Monthly Archive for December, 2008
Happy New Year!
I'm excited for 2009!
Be safe, and have fun!
So I found this blog yesterday; I will leave it's name undisclosed. And, I'm officially addicted to it. All day I couldn't stop thinking about it. And, wanted to digest more and more. Then I came home and spent a good hour reading back entries on glamorous things like NYC, dining, decorating, weddings. I love it, but I hate it! Too much blog reading can leave you feeling dissatisfied with one's own life. I mean, who knew in the first place that there were this many blogs out there?! And, that people actually make a living from BLOGGING?!?!!?
Again, all day I dreamt about one day working from home (though I have no skill that would allow such a thing), but doesn't it sound glamorous? Well, only if I had a home that looked like this…
I decided I could learn to be a really good photographer, and then I could open a business. I could be a wedding photograher and work from home. I could charge $2500 a wedding, book 4 a month and I would technically be rich. But alas, no….
Then I decided to stop gawking at blogs, and look at what I have that I am so satisfied with. And, it's a lot.
my life, my husband-to-be and all the love he gives me, my friends, my mom who I speak to everyday, my brother who is a hero, my dog who hogs the couch, my cat who is secretly planning to kill me off so she can marry Nathan, my job when other's are losing theirs, the fact that I'm good at my job, the creativity my job allows me, this glorious city even when it is dark and cold out (though I much prefer her breezy and a mild 80 degrees), my health, possibility, sweet tea, home made soups, tomato gardens, vintage dresses, colorful tights, creative venues like writing, reading, photography, crafts, food, wine, nights spent playing UNO with Nathan, my home, travel opportunities, humor, comfy bed time, dreams, cuddles, tomorrow.
There's more I'm sure but hey…that's a lot and enough for me.
Yesterday I made homemade winter squash soup with my new food processor. It was delicious. I roasted butternut and acorn squash, and then browned onions and garlic on the stove top. Then I pureed everything in the processor, added chicken broth, evaporated milk, salt, and pepper. Voila!
Later on when I was cleaning up I went to pick up one of the blades to the processor. I attempted to pick it up from the sides but the blade is higher than the side so of course I pick it up from the blade on accident! It sliced my thumb so bad. I went into shock at first! It hurt initially unlike most cuts which have a delayed pain. Nathan wanted to go to the ER, but I calmed down, and we wrapped it. It's quite annoying because it is my right hand…and even typing is difficult at this point.
Today is my last day off in my 4 day mini vacation. I am finishing watching Meet the Press, then I am going to see Benjamin Button. Nathan and I have been talking about some big things beyond our wedding for 2009, and I am going to blog about those soon. We both really want to take a fiscally conscious approach to our wedding, and life in general so we can do the things we really want: travel, volunteer, create.
Quicken here we come!
Merry Christmas to all!
It was a lovely Christmas. I did a lot of cooking, and just about everything turned out perfectly. Well, except for the pecan pie. I have been making this pecan pie for 8 years, and don't you know I messed it up this time. Instead of a box of sugar, I put a cup of sugar… well, it turned out more like a pecan quiche. So no sweets for us! But that's okay.
I got a lot of great presents. My favorite – Kitchenaid Food Processor! I can't wait to use it. Tomorrow I'm going to make a homemade butternut squash soup. I even just saw a fantastic recipe for Roasted tomato and red pepper soup, too. One of the dishes I made for Christmas eve dinner was so good I'm thinking of having it at the wedding as a side dish. The Pear and Celery salad! Yum! It's refreshing and seasonal tasting. I loved it.
I have the next few days off, and am planning on relaxing and possibly diving in to more wedding planning, but the majority of it I'm waiting to do after the new year. I have to get specific emails out, and Nathan and I need to talk about foods and Save the Date cards. We want to try to get those out by mid February!
I hope everyone had a wonderful holiday.
Please stay safe and warm.
Nick is going to join us for Christmas. Since we all have to work Christmas eve, but really want a delicious Christmas eve dinner I'm going to go small but yummy. I am currently grocery shopping. Yep! I am a big advocate of Peapod. It comes in handy especially if you live in a big cold city like Chicago, and don't have a reliable car. It also allows you to compare shop nicely. Some things are a lot more expensive than if you bought in the store, so those we don't buy. But if you want to stock up on groceries (I'm still not to that point), and don't have the liberty of driving then it's your best bet! I've had a great experience every time.
So our Christmas eve dinner menu looks like this:
Honey Glazed Ham
Southern Dressing (I made extra at thanksgiving and froze it – just have to bake it).
Nick's homemade Mac N Cheese
Garlicky Green Beans (Eating Well recipe)
Crunchy Pear and Celery Salad (Eating Well recipe make beforehand)
Pecan Pie (make beforehand)
On Christmas I'm going to attempt to make Nathan's mom's recipe for Swedish Meatballs. Every year Nathan and his family have swedish meatballs on Christmas or Christmas eve with peas and mashed potatoes I think. Last year when Nathan moved here on Christmas eve he actually brought a tupperware container with swedish meatballs inside so I could taste! Debbi gave us the recipe so that's what I'm going to do!
Christmas Menu:
Swedish Meatballs
Peas
Vermont Cheddar Mashed Yukon Golds
It's Sunday morning, and very very cold outside. Something like -6 degrees, and that is the actual temperature! Nathan had to work today. It's the first Sunday since he moved here that he has had to work on a Sunday so I'm figuring out how my future Sundays will go. I slept in, petted Tucker, made coffee (I put sugar in it and I never do that), made an egg on my new no-stick frying pan (it's amazing!), and am watching Meet the Press. Condoleeza Rice is on today. I like how soft spoken she is, but I don't care for her way of twisting a "win" in Iraq. I don't think anyone is going to win there.
Anyways…
I do miss the election.
Lucky enough (that was sarcastic) for us, Rod Blagojevich has been such a disgrace to politics that we have something else to focus on of interest. I cannot believe his statement on Friday. Man…that's going to be a good movie.
So I want to do a lot today, and I don't know it's all going to be accomplished. I need to finish wrapping all presents, package them up, and send them out tomorrow. I wish I had sent out christmas cards; maybe I'll still send out a few. Clean, again! Look at photos for a possible frame wall. Take Tucker for a walk, and hope he doesn't get frost bite. He seems to really like the snow. And, relax. I'm hoping next years Christmas isn't like this years. It has been a bit of a downer – what with the economy, the changes made daily in the retail world, the COLD!
I think Christmas day will be nice though. Warm, toasty, quiet, friends.
I try on my dress every few weeks. I only do it when I know Nathan won't be home for a while, and then I twirl around. I don't know if I've mentioned the dress much, but I love it. It makes me happy. As soon as I saw it I was happy, and I knew it was it. I bought it before we were even "officially" engaged.
I don't look at other dresses much. There are plenty I like but I don't care to gawk that much because I've already found my dress. But I feel like my blog needs more pictures so I may start posting some dresses that I like from the 30s, 40s, 50s.
I always thought I wanted the dress that Elizabeth Taylor wore to the Oscars when she won for Cat on a Hot Tin Roof. It is gorgeous, and I've only ever seen the top half of it!
I also love this pattern …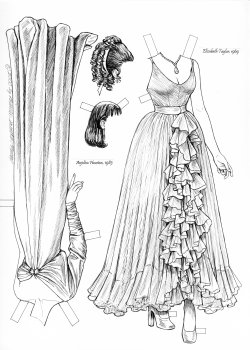 and this…

She is so gorgeous!
I got my ring yesterday! I love it!
I keep walking around afraid to touch anything for harm of hurting it…but I'm sure I'll get over that.
They cleaned it, and it is super shiny. I think only I would have preferred a tarnished ring! It looks so different somehow cleaned. After they presented it to me I noticed it looked slightly different (maybe it was the shine), and through this found out that the setting split when they went to resize it. So they had to resauder the entire setting to get the opals and diamonds back in. I can tell a slight difference in their placement from each other. I really don't like Kays. I wish I could have found a privately owned jeweler, but I didn't have much luck. Their form of communication is weak! They would not have even told me the setting broke, or that it wasn't going to be back in time unless I noticed/came in to the store when they said it would be done. Never going there again!
Good news: I have the ring!
Better news: It fits wonderfully.
I'll try to take pictures later!
6 days until Christmas!
So, I have a wonderful best friend AJ, and while Nathan and I have decided not to have the traditional wedding party AJ would most definitely have been my "manmaid" or "best man." Last September he married the beautiful Shea O'Brien in Sacramento, California. I knew as soon as he met her that he was head over heels, and she was IT. They are so perfect for each other, and I was honored to be one of his "best women" in his wedding alongside his little sister Katie.
Me and AJ at his bachelor party dinner.
The best women and groom.
AJ also had a destination wedding, and we both were living in different states prior to the wedding, so the act of being a "best woman" was a little difficult. I did my best to pull together a bachelor party, and to calm him the day of the wedding.
Well, that being said he is such an amazing friend – it's been 10 years now!! Today I received an email from him with a bid for the wedding menu along with other great details. We chatted for a long while about things Nathan and I want at the wedding, and then he sent an email of a preliminary breakdown of the day and days leading up to the ceremony! Since obviously Nathan and I have never done this before, and we are planning on doing a lot of it ourselves this little present from AJ was such a nice surprise, and helped me put a lot in perspective.
I really want the wedding to be fun, and friendly with lots of good food, drinks, and laughs. I think with mine and Nathan's friends and family's support in pulling the whole thing off it will be. My mom wants to cook, and Nathan's mom and sister have already offered all kinds of help since they are in New Hampshire. And, with AJs natural event planning skills…. we are on a roll.
So, AJ thank you aleady for all of your support and love!!!
This is going to be the best party of 2009!